After three years of working from home in Guangzhou I made my return to Shanghai, I was keen to visit the IKEA Jing'an City Store which opened in July 2020.
Think about your typical occasions when buying furniture, you may say it's not something you do frequently. Traditionally - perhaps, and still now for many people - you wouldn't mind travelling out to the edge of town to a large IKEA box, once or twice a year, spending half a day there with your family or friends.
Now with its convenient city centre location, IKEA is trying to fit into your everyday life - albeit with a limited space of 3,000sqm spreading across three floors.
A PLACE TO CHILL, instead of a simple furniture store, you could feel this strategy in many areas across the store:
The blend-in of Shanghai alley style, the view of Jing'an temple from the broad windows
The pleasant Restaurant & Café, plus Swedish food market taking over 1/3 of the space on F3, with the compliment of "Swedish on the go" (snack bar) at the exit of G/F
The interactive design centre – you can configure your dream home through the digital tool and get immediate professional help
A selected merchandise of 3,500 items centered around 5 function areas: bedroom, living room, tableware & cookshop, home decoration, and kids.
(A total of 9,500 items could be ordered from the mini program or the IKEA APP. Everything in store has a QR code attached so that you could easily buy online)
I also witnessed a varied customer profile through the duration of the day: Grandparents with young children in the weekday morning, office workers popping in for lunch or coffee, white-collar workers and residents living nearby coming in to get away from the work pressure or heat outside – relaxing on the soft sofa, picking up something here and there, chatting with friends now and then…
Thanks to its superb location, the store can reach a wide customer base, yet to keep them returning frequently requires further efforts. After all, it is not a store selling FMCG or fashion.
According to media reports, 12 different themes have been designed for the entry hall - updated each month, keeping the store fresh, collecting feedback, and responding to different consumer tastes. Furthermore, the Restaurant & Café bar host "Community Labs" periodically for social communication.
Out of professional habit, I tried to identify some characters of the core catchment by comparing it with some other popular locations in Shanghai (ref. Figure 1).
Interestingly, despite the similar quantity of customer base, the core catchment of Jing'an City store stands out with some remarkable features such as (ref. Figure 2 and Figure 3):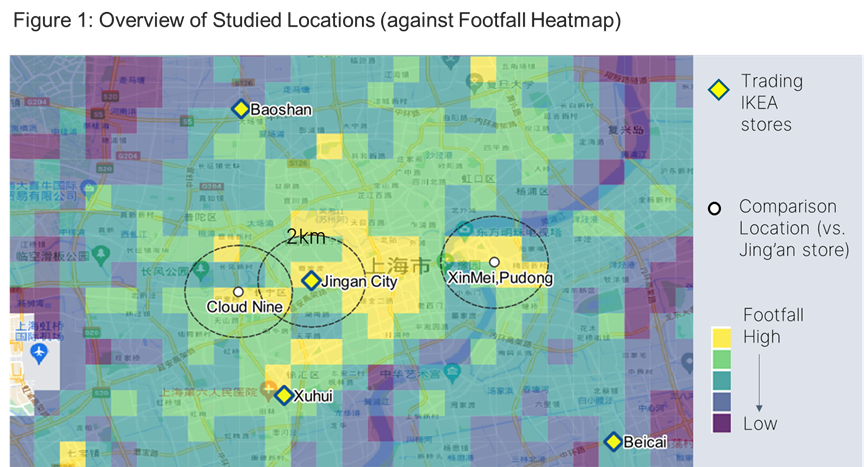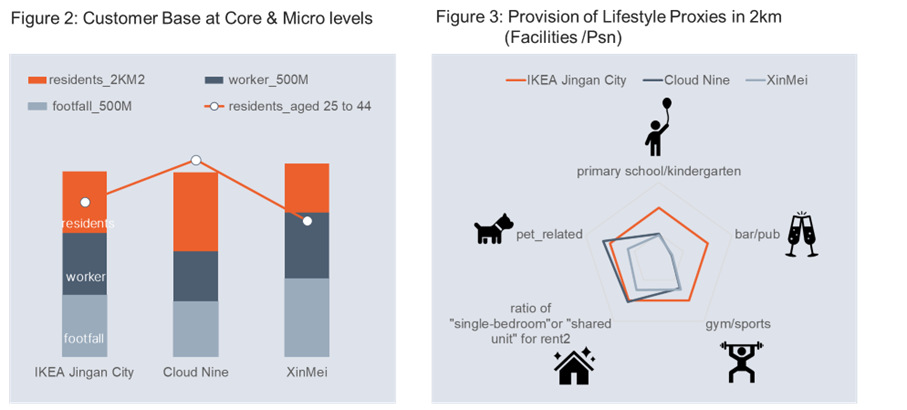 1.    Living space: A relatively high ratio of single bedroom units or shared units in Apartments for Rent, suggesting small households are relatively more active in terms of relocating in this neighbourhood and therefore have a higher demand for relevant furniture
2.    Household members: A high share of primary school and kindergartens per person should attract good number of families with kids to live in here (despite small household leasing being more active). There's also a high provision of pet facilities in the catchment, even if it is a slightly lower index than that of Cloud Nine (one of the comparable locations).
3.    Lifestyle: A noticeably high ratio of gym/sports facilities and bar/pub per person suggests an active and lifestyle driven demographic in the catchment, something which the IKEA store may be targeting with its Community Labs?
The demographic data echoes IKEA's current selection of merchandise. Perhaps if IKEA opens the next city store elsewhere the ranges may be different… time will tell?
And if holding the next Community Lab Event, gym/sports or wine element could be potential attractive topics?
I ended my first visit by purchasing a desk lamp for wfh (work from hotel – the lighting in the hotel was too low). I very much look forward to visiting the store again on my next visit to Shanghai! Maybe I can find a sort after fancy limited edition item then :)