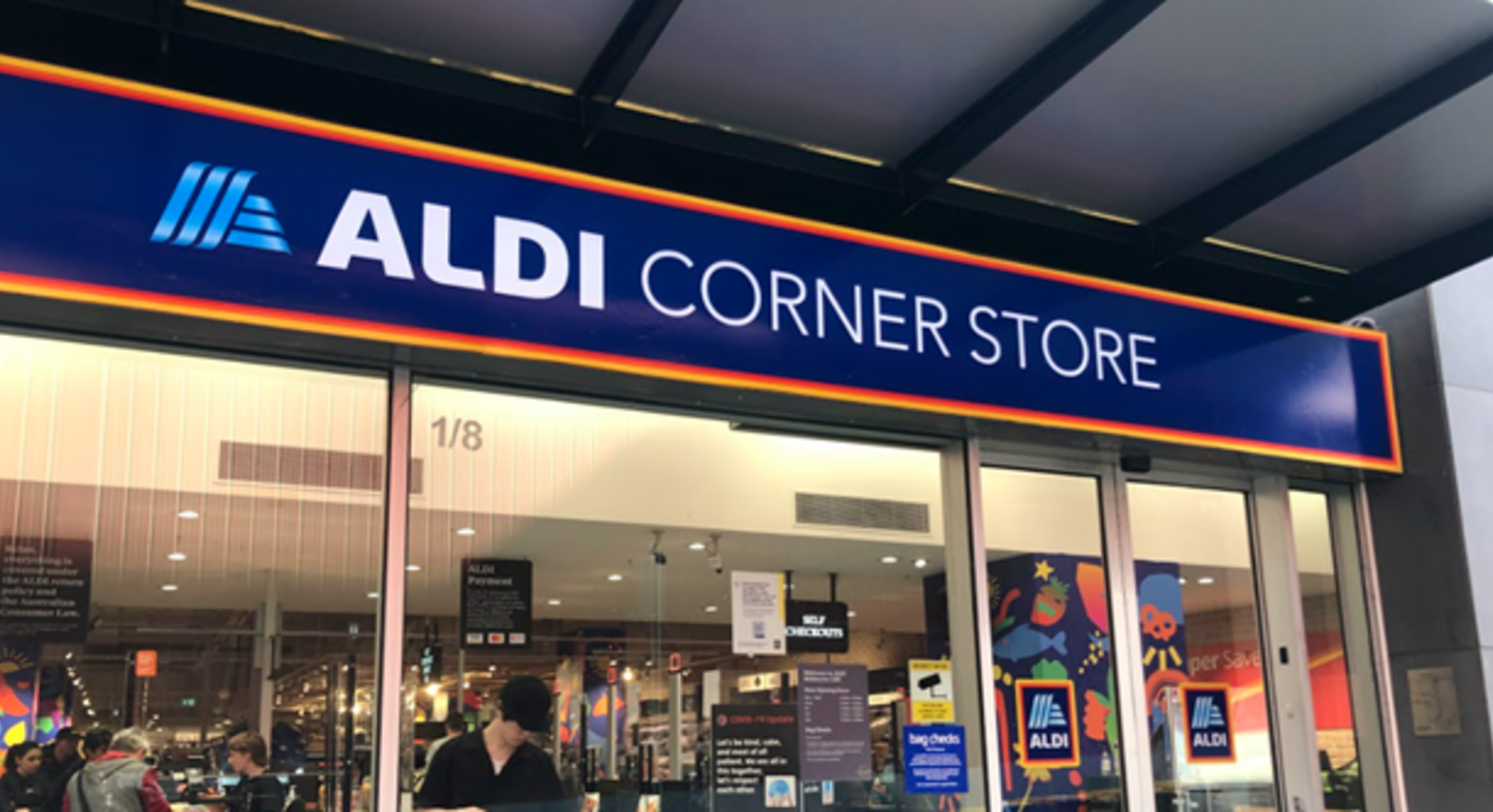 Inside the Corner Store - ALDI Melbourne
While Rachel was in Australia working on a client project she took time out to explore Melbourne CBD and visited the new ALDI format Corner Store.
24th October 2022
The German discounter ALDI first entered the Australian grocery market back in 2001. Over the last 21 years, the discounter has opened over 570 stores in six states and territories – a number that is slowly catching up with the UK market (which has just shy of 1,000 stores).
In July 2021 – during the midst of a COVID-19 lockdown - ALDI Australia launched a smaller, more convenient format branded the 'Corner Store' on Sydney's north shore. By time of publishing, the grocer has opened three more of these smaller stores, located in Darlinghurst, Melbourne CBD and Prahran, with more set to open in the coming months. Rather than constructing new properties, ALDI have refurbished existing stores, with a strong focus on those situated in urban areas.
The Corner Store aims to reinvent the way smaller formats are understood and designed in Australia, with a focus on making it faster and easier for city-based consumers to shop for groceries. The convenience format is not new to Australia, however, unlike the UK, these formats are not as widespread – with the main convenience stores typically located in busy CBDs. However, grocers across the world are seeing a change in the way customers shop post pandemic – with smaller baskets and more frequent shops becoming the new norm as well as greater focus on convenience – something that could shape the future grocery landscape.
As luck would have it, Geolytix were out in Melbourne just weeks after the Corner Store in Melbourne CBD opened and so we had to pop in and visit before heading back to the UK.
ALDI Corner Store Melbourne is located in the heart of Melbourne's CBD on Swanston Street – directly underneath residential apartments and a stone's throw from RMIT university and the new State Library Metro Station (part of the wider Melbourne Metro Tunnel expansion programme). Unsurprisingly, the area is quite competitive – with Woolworth's Metro, Coles, 7/11 and IGA all located within 0.5km of the Corner Store. The location has clearly been chosen for its central location, good commuter links (particularly when the new station opens) and dense worker population.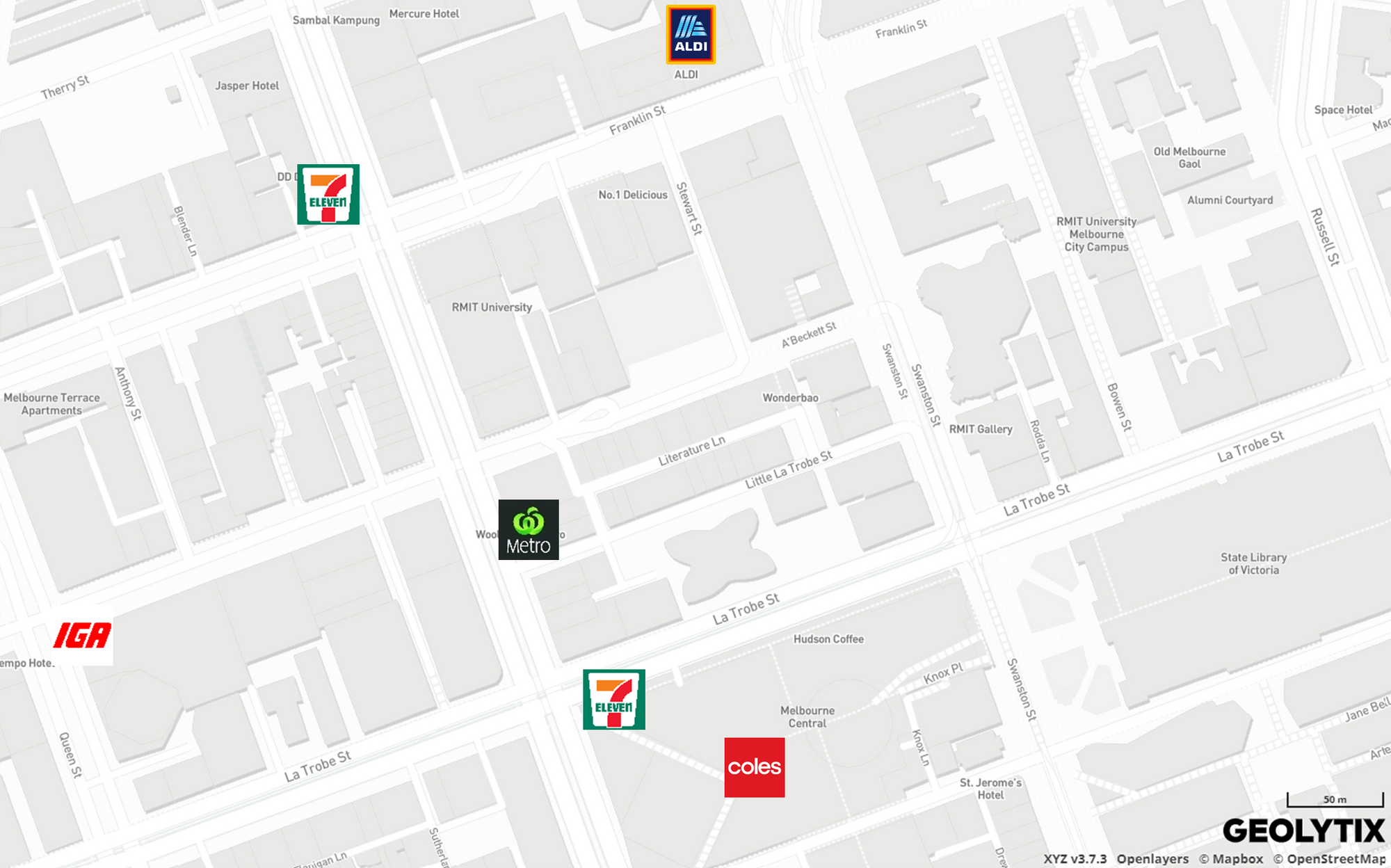 The store's layout is unique to other ALDI Australia stores, with simple navigation – including no barrier entry to the store – and self-checkouts, allowing for a quick and easy shopping experience – something that is particularly important for busy city professionals. The store's design is also sleek, with fresh produce displayed in wooden crates and vibrant murals by artist George Rose splashed on the walls – a celebration of Melbourne's art scene. ALDI also shout about their sustainability efforts with many reminders of their 'net zero targets' and 'Aussie First' produce throughout the store.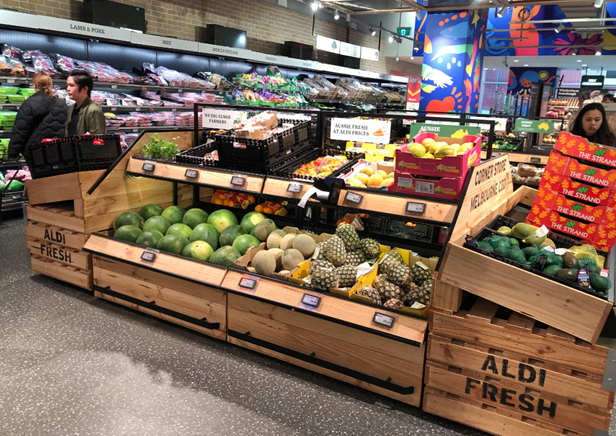 Alongside longer trading hours (allowing customers to visit after their busy working day), the store also features extensive food-to-go and convenience food options, all located within easy reach of the store entrance and checkouts. This vast focus on quick and easy food comes as no surprise given the dense worker location. Many of these convenience products are unique to the Corner Store and have not been ranged in an ALDI before – making for a fun browsing experience! The Corner Store also has a rather impressive artisan bakery featuring fresh, artisanal bread - including Grain + Stone sourdough that is exclusive to Aldi – as well as the more common pastries and sweet treats.
Despite the format's size – around half that of a 'regular' ALDI - the recognisable special buys still take centre stage at the heart of the store. But, in keeping with the convenience theme, some of the bulkier items or products that do not necessarily appeal to the inner -city resident have been removed from the range. The familiar low prices have not been scrapped either with many staple food items being competitively priced – meaning customers do not have to choose between value and convenience.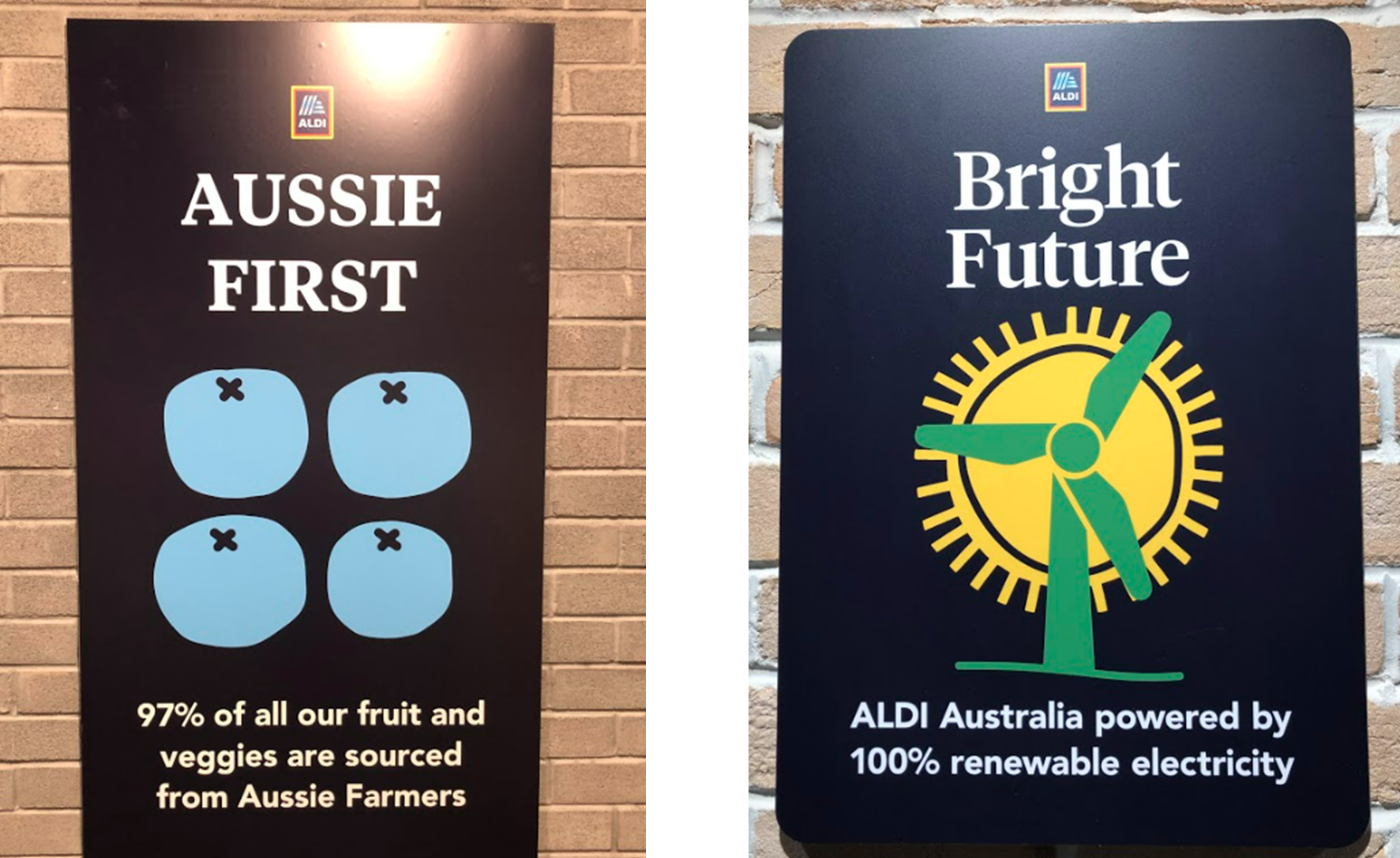 The Corner Store offers fun new treats and products, and it's still the ALDI we know at heart! Local artwork used to strategically decorate the store celebrates the local community and creates an inviting space for customers to shop. Moreover, the simple layout is clearly aligned to the customer's needs – predominantly customers short on time – and the extensive range of food-to-go and convenience food products further fulfils the requirements of the target customer demographics. Although ALDI is not the first to enter the Australian convenience market, they have certainly made a unique entrance!
Rachel Wyles, Location Planning Partner at GEOLYTIX
Related Posts
20th March 2023

Rossmann - the place to buy your health & beauty, children's toys, cat food, chia seeds, a bottle of Sauvignon Blanc and some boxer shorts...

17th January 2023

The UK is known for its many historic towns but new towns are occasionally built. Sarah explores Sherford which welcomed its first residents in 2017.

19th December 2022

Imogen & Rachel recently visited the flagship Gymshark on London's Regent Street. They review their full experience; from a workout in the Sweat Room to a Joe & The Juice shake.