Playing to win: Board Game Cafés and the Communal Meeting Space
The UK's new indoor lifestyle has prompted a boom in the board game industry over the past year, building on past successes. Waiting to eat up this new demand are the country's surviving board game cafés, provided we haven't been too scared away from meeting up in person.
22nd February 2021
The last 12 months have resulted in huge booms in a unique indoor themed subset of the economy. Among bread machines, home gym equipment and crafting supplies you can find an industry which dates back to the dawn of civilisation: board games! From Chess and Go, through family favourites like Monopoly and Scrabble (Geolytix is 19 points, you're welcome), and now on to more modern and experimental fare, the tabletop scene remains alive and kicking the world over.
Though pubs, cafés and community centres in the UK have often held onto a shelf of classics, only recently has a dedicated gaming space appeared in numbers in our cities' retail areas. In November 2014, Draughts, London's first board game café, opened its doors. It was predated by others, mostly in smaller university towns, but this seems to have really kicked off the trend. The model is simple: pay a small table charge in order to gain access to the vast quantity of games that line the shelves. Most have acquired food and alcohol licenses in order to better attract customers, and, until this past year, could be found echoing with the highs of victory, the lows of defeat, and the constant enjoyment of a good day out with friends.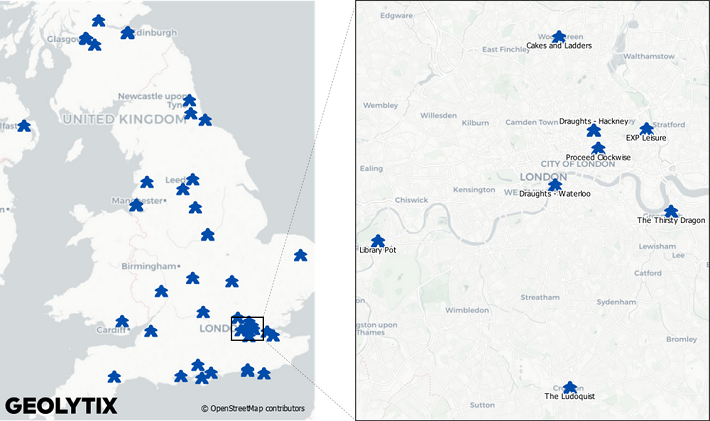 It became apparent after mapping the board games café locations, that this unique industry is more prominent than it seems. Sorry if we've missed your local, there's more appearing all the time!
As might be obvious, this new breed of retailer cluster in young, affluent areas (near triple the local share of 20 to 29-year-olds verses the national urban average), on average 5km away from the nearest university campus, and only 2km from the nearest secondary school. Their proprietors (often young professionals themselves) sometimes turn to crowd funding services to secure downpayments in cheap, trendy areas. Their influence continues to expand, as more and more people catch on that they don't need to fork out a few hundred quid for a decent collection, instead heading down to a local café for a pint and a roll of the dice.
While the likes of Germany, France and Canada are closer to being household industry names than the UK, we can still hold our own: Games Workshop is Nottingham's own tabletop gaming powerhouse, worth more in 2021 than British Gas, or the entire UK fishing industry. Couple this with the re-rise of Dungeons and Dragons, and the British board game world can only get bigger, and the physical locations are ready for when we're all let back out again.
Josh Reynolds, Data Scientist at Geolytix
Title Image: Provided by Tic Tac Tabletop in Tavistock (via https://www.facebook.com/tictactabletop/)
Related Posts
30th November 2021

Gagan Singh Virk joined us in October on a work experience placement from NewVic college. Here he details his week with us...

5th November 2021

Remember, remember the 5th of November... Realising her bonfire night was a Sussex tradition, Kate talks about the world of Bonfire Societies, using MAPP to look at the possible impact of the festivities road closures.

2nd November 2021

COOK approached us, keen to open more shops and concessions; they requested a toolset that would help support them in understanding and analysing the potential of new locations. Challenge accepted, we got to work...